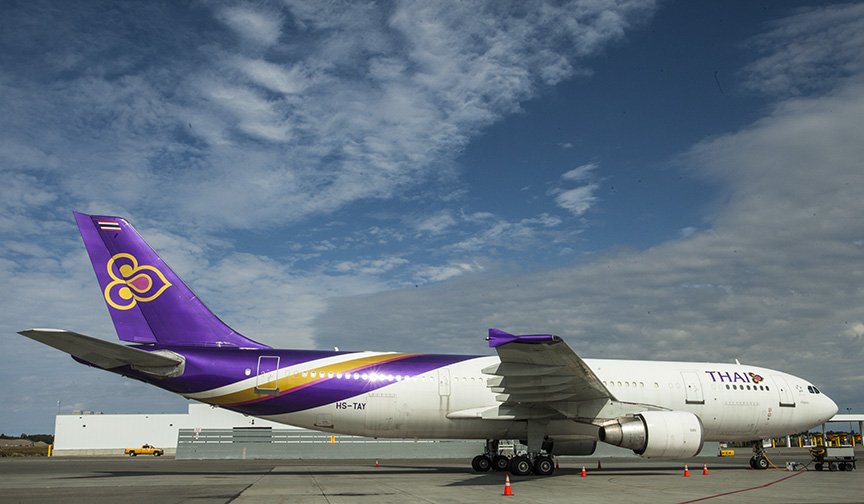 Colorful images are seen!-
Look for color in aircraft photography when shooting at airports. Whether it's an old cargo or passenger jet some of the paint schemes (liveries) are getting very creative and colorful. Usually when cruising around the airport on the ramp I look for the tails (vertical stabilizer). Especially those parked in a line. This works better to show the carriers at your specific airport. However, most of the best images of specific aircraft types are best seen alone on taxi, takeoff or landing.
If you have no way to get on the ramp get your gear ready to shoot when you can get a window seat. Some airlines have contests for images of their winglets while in flight, or on the ground at the terminal or taxing. Keep your eyes out the window once seated. There is nothing that annoys me more than passengers pulling down the shade before the aircraft even lifts off the runway.
Photography of aircraft is no easy task and some of the best photographers in the world are members of the International Society of Aviation Photography. Many of the members of this organization have had their images in every aviation magazine and website possible.
Spotter Photographers-
There is also a group of "Spotters"  photographers that specialize in making images of jets worldwide. Many of these Spotters are doing so as a hobby ( to collect aircraft types or airlines worldwide). Eventually many photographers develop skill at shooting aircraft in all aspects of a day at the airport. Many Spotters pass their knowledge to other photographers about where, you can make good clean images of aircraft while operating on and off the airports.
There are websites that devote all of its images to the varied uses of aircraft worldwide. Military, cargo, passenger, and experimental aircraft images are  there. Many of these websites give photographic guidelines for submissions by anyone who signs up. Check them out!
Examples of a few are: http://www.airliners.net/  https://www.planespotters.net/  http://aviationspottersonline.com/