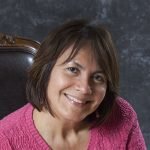 Alaskafoto is a professional business created by one of the best Alaska Photographers – Rob Stapleton and Janeth Valencia who are in the business of making photographs. We specialize in using action, sculpting with light, color, and emotion to tell a story or illustrate a perspective.Rob Stapleton's photographic work spans 40 years in the state when after moving to Alaska from Southern California in 1975 to work as a photojournalist for the Anchorage Daily News. Stapleton's career involves photographing the building and the "Oil in" of the Trans-Alaska Pipeline, and the Exxon Valdez Oil Spill. He also covered the Iditarod Sled Dog Race from Anchorage to Nome 20 years for the A D N, Associated Press, Sports Illustrated Magazine and commercial clients.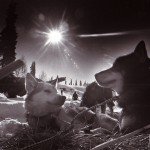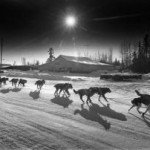 After making friends with Iditarod founder Joe Redington, he was invited on the 1979 Redington Butcher Expedition. This expedition was to take a team of sledge dogs to the 20,320-foot summit of Denali. Led by the dog team, Joe Redington, Susan Butcher, Guide Ray Genet, Brian Okonek and Stapleton as the expedition photographer, he documented the first and only successful dog team to make the summit.
Stapleton also has international experience on assignment in Moscow, Novosibirsk, Provideniya, Anadyr, Yuzno-Sakalinsk, Russia, Inchon Korea, Tokyo Japan, Shanghai China, and Bogota, Cali, Medellin, and the Santander region of Colombia S.A. Rob has knowledge of the Russian language and is fluent in Spanish.
Stapleton's photographs of Alaska and Alaskans have been published in Life, Time, People, Newsweek, Der Stern, Paris Match, Le Figaro and many other magazines and newspapers. Rob is also a member of the "Old Iditarod Gang" that published a 424-page coffee table book in early 2015 titled "The First Ten Years of Iditarod."
While working on assignments and projects Stapleton has lived in Anchorage, Fairbanks, Juneau, and Nome. While in Nome he started the Bering Strait Record a weekly newspaper for Alaska Newspapers, Inc. Working as a photojournalist, writer and editor he has worked for the Alaska Journal of Commerce, the Anchorage Chronicle, and Fairbanks Daily News-Miner. He has also been a correspondent for the General Aviation News, and AOPA Pilot magazine and has numerous stories published on aviation-related websites.
Rob is a licensed pilot who flies single-engine aircraft, holds an FAA Advanced Ground Instructor rating and a Light Sports Repairmen's certificate. His interest in the Alaska Aviation industry has also led to many stories published in aviation-related publications. Stapleton has served as a board member of the Alaska Airmen Association and writes stories for the Transponder a quarterly tabloid newsletter for the association's 2000 members and has a weekly aviation television magazine package called the Alaska Aviation Link that airs on Fox Ch. 4 and ABC Ch. 13 Statewide Wednesdays on the news segment from 9-10 p.m. weekly.
Recently Stapleton published a 128-page book "Alaska's Bush Pilots" in conjunction with the Alaska Aviation Museum where he also serves as a member of its board of directors. Stapleton is also one of the founders of the Alaska Aviation Legends project that honours Alaska's aviation pioneers with a magazine and a banquet yearly.
Serving as the chairman of the board of directors of the Alaska Moving Image Preservation Association Stapleton is dedicated to Alaska history and Alaska Aviation history preservation and the continuance of the freedom of flight in the great state of Alaska.
Currently, Rob shoots photographic assignments for Alaskafoto a company co-owned by him and his wife Janeth Valencia.
We specialize in travel photography, event photography, nature photography, drone photography, portrait photography, wedding photography, environmental portraits, birthday, and any special occasion party. For more information please contact us at rob@alaskafoto.com, or call (907) 230-9425