Halfway around the world 19-year-old pilot waits for a Russian visa to cross the Bering Straits
By Rob Stapleton/Alaskafoto
An around the world flight attempt by 19-year-old Zara Rutherford seems to have hit a series of delays on her way, and more than once in Alaska, but has made it "halfway around the world," after landing in Nome Alaska Sept. 30th. Rutherford started her trek in Kortrijk, Belgium on August 18, 2021, and is trying to beat the record to circumnavigate the globe as the youngest woman pilot.
Rutherford the daughter of two aviator parents is flying making the around-the-world-flight also to bolster and encourage female aviators, and those young women who are looking for a career in aviation. Zara sites her aviatrix inspirations on her website FlyZolo.com.  "My biggest role-models are Lillian Bland, Bessie Coleman, Valentina Tereshkova and Amelia Earhart," she says.
Anchorage aviators, and the Alaska Airmen Association waited for 7 days to see the Belgian woman who was delayed leaving California due to smoke from fires was again delayed once she arrived in the Capital city of Juneau due to maintenance and technical issues.
A combination of university, high school, budding aviators and media scanned the azure skies to the east of Anchorage waiting to see the Shark UL a snow-white aircraft with an elliptical wing and sharks tail vertical stabilizer enter the Merrill Field pattern to land. Once spotted on final approach the crowd cheered and yelled "there she is."
Not to be deterred from her goal Zara arrived with light winds and blue skies at Merrill Field at 1:30 p.m. Wednesday September 29 with a big smile on her face. Once she shut down the Rotax 912UL engine on her sleek carbon fiber Shark she jumped out wearing an orange jump suit and a flotation device around her neck to a crowd that had gathered at the University of Alaska Anchorage Aviation and Technology's hangar. Local Alaska TV stations and two photographers from the Anchorage Daily News a radio reporter and a travel writer guru were on hand to cheer and welcome her.
The Alaska Airmen Association set up a plan for a press conference at the UAA Hangar at PAMR with an ETA of Sept. 25 but that was delayed daily until Sept. 29 when Rutherford departed Juneau for Yakutat and on to Anchorage. Shortly after arriving Zara moved into the hangar on a stage and accepted a check for $1000 from the Alaska Airmen Association and took questions from the crowd.
After that she moved outside on the tarmac by her "Ultralight Shark UL." The aircraft a tandem two-place low wing aircraft powered with a 100-horsepower engine four-cylinder engine that only burns 5 gallons an hour while airborne cruise at altitude with 100 liters (26.4 gallons) of fuel total in two wing tanks. The Shark aircraft received certification in 2013 by the Czech Republic and later in Germany and China in 2017.
While it is called an Ultralight that term in Europe and abroad carries different connotation in the USA. The shark has a variable pitch propeller, retractable landing gear and has a higher stall speed and cruise speed higher than FAA certified Light Sport Aircraft. Ultralight aircraft in the US are called Ultralight Vehicles" that are single seat aircraft that can only weigh 254 pounds empty, carrier only 5 gallons of fuel have a top speed of no more than 55 knots (63.29 m.p.h.) and a calibrated stall speed of 24 knots (24.6 m.p.h.).
Citing sleep and loneliness as the two big personal challenges of the series of trips that are making up the aerial circumnavigation. But to keep her busy the aircraft is equipped with mounts for GoPro and other action cameras on each wing tip, the horizontal stabilizer and several in cockpit cameras to record her flights.
Rutherford expressed her impression with the size of the glaciers the Malaspina and Glacier Bay areas she had just overflown. "The size of the glaciers is amazing, I had no idea how immense they are," Zara said.
On her flight from Anchorage to Nome she posted a video of the Dora Keen Mountains named after a woman mountaineer always promoting the achievements of women, Zara is the perfect roll model as a STEM straight A student bound for a university after a month of sleep at the end of this quest.
Stifled with an expired Russian visa Rutherford is stalled in Nome just short of her flight over the Bering Sea and on to the Chukotka city of Anadyr. According to her arrival schedule she will be on an ADMIN PAUSE until October 6, 2021.
See below for a picture story with explanations and details about photographing this event.
As part of the this blog showing you photographs are useful but I thought that throwing in some examples and the reason that I shot them as a picture story. First off the subject of the story is Zara Rutherford and her aircraft the Shark UL circumnavigating our planet showing the pilot and aircraft were necessary. Just like a book or a movie there is a beginning and an ending. For this story the images above and below serve that purpose. Additionally this was an event and I wanted the photographs to tell the story of landing, meeting and leaving. The Featured image of the aircraft in flight was during her final approach to land at Merrill Field, Anchorage, AK.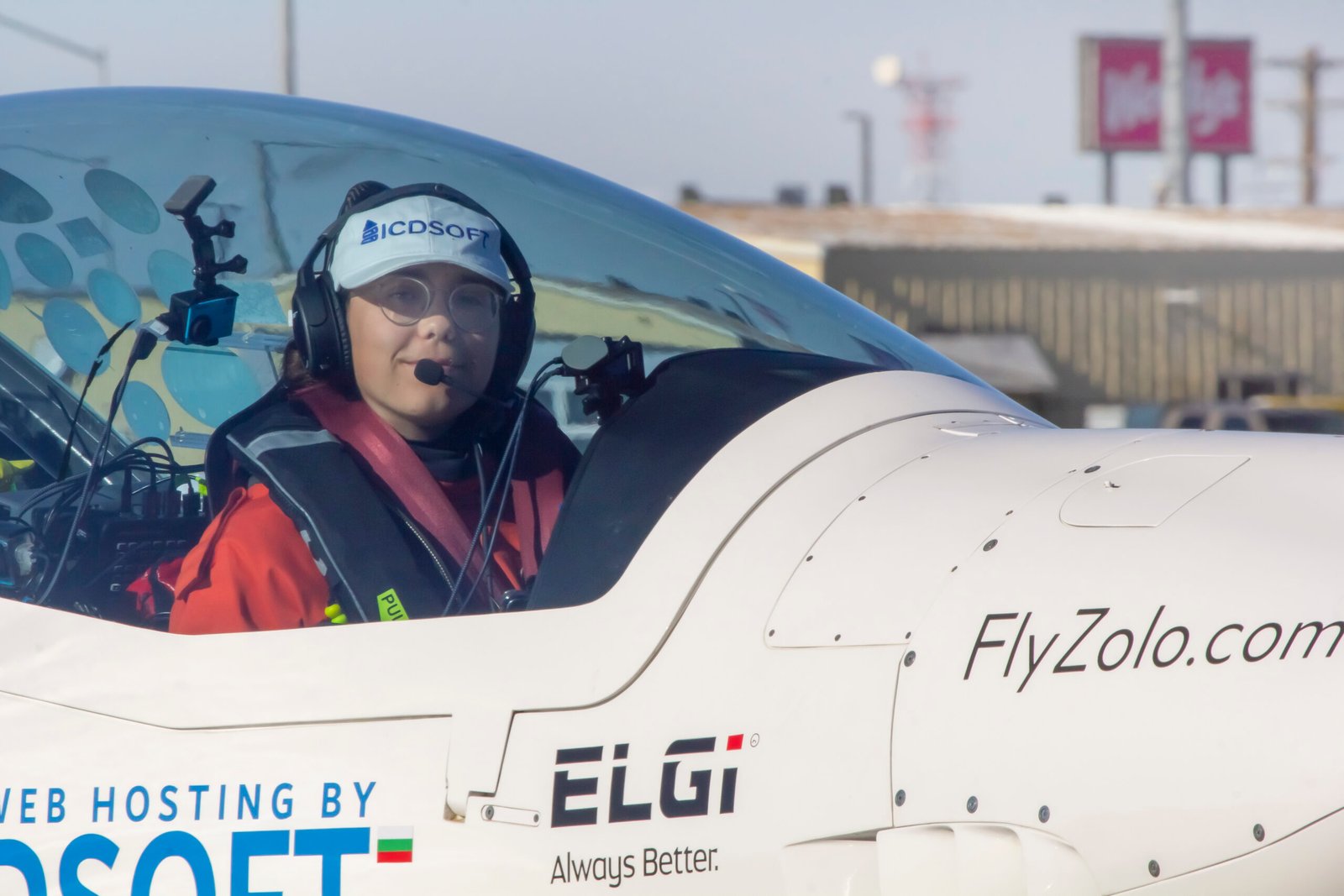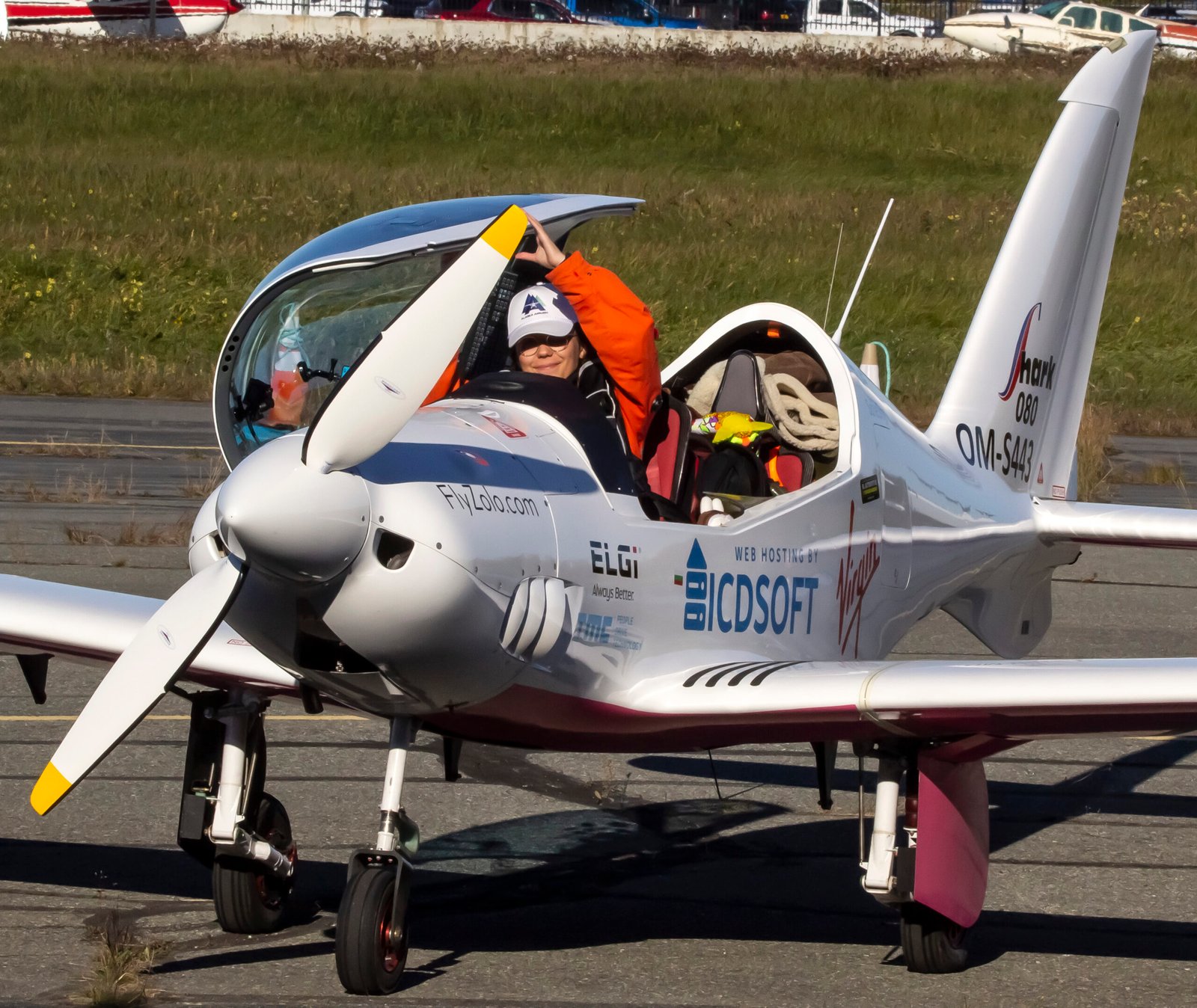 100-400mm lens image of Zara lifting the cockpit canopy of the Shark UL.
The above image was made at 2oomm in the hangar as Zara changed caps to the Alaska Airmen Association hat. I wanted details in her jumpsuit and to capture her smile.