Alaska photography would be incomplete for a photographer if he didn't take aerial photos. Read further and are going to learn many things about capturing great aerial images from an aircraft. If you are an airplane photographer and you are into aircraft portraits you should read on. You can either take environmental portraits from an aircraft or aircraft portraits from an "aircraft", this is referred to as Air to Air photography which is quite a difficult task to master.
What time of the day is best suited for Aerial Alaska photography?
When you book your flight, you'll want to take some time to consider the time of day and angle of the sun. Just like regular landscape photography at ground level, the light is going to be softer, and create more contrast at the beginning and end of the day. Avoid midday flights at all costs for best aerial, and air-to-air Alaska photography.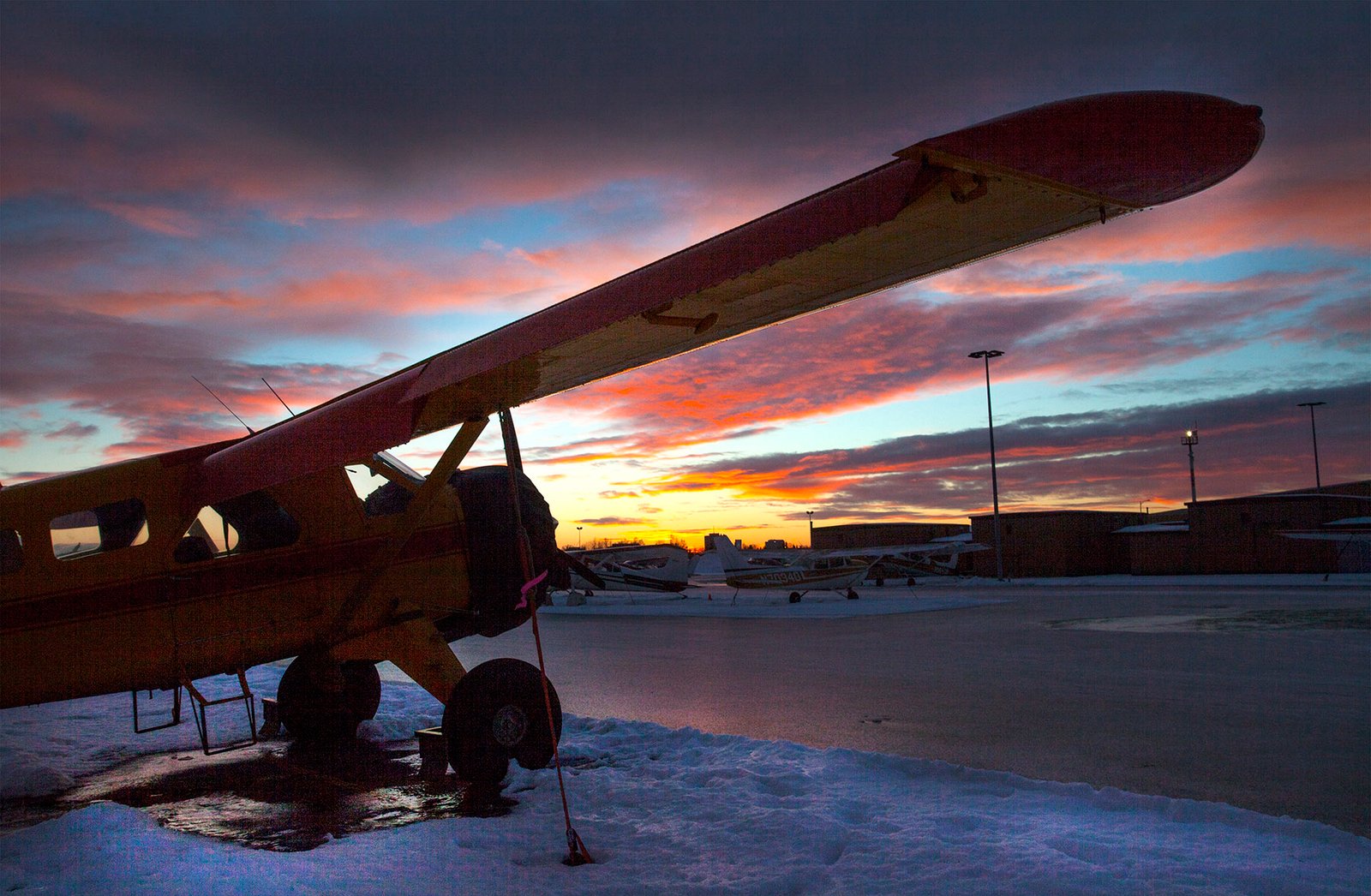 The time of day doesn't just affect the softness of the light, it also changes the direction. To accurately plan a photo flight, you should have some idea of exactly what subjects you want to photograph so that you can work out which sun angle will make them look the best for aircraft portraits. Another small tip that is relevant to both photography from an airplane and a helicopter is that it's very important that nothing falls from the aircraft. So, whenever you're sticking camera equipment out of an open aircraft door or window, it needs to be securely attached to you, a neck strap can be your best convenient option. Some photographers use a wrist strap or even a monopod. You will also need to ditch the lens hood for good as you don't want it flying off your camera and causing damage to the aircraft. You will find out quickly when you stick your camera or its lens out into the slipstream of the aircraft that a lens hood will act as a drag and can pull your camera right out of your hands.
What would be the best lens for Aerial Alaska Photography?
This is a pretty significant decision because it can really make or break the kind of Alaska Aviation photography you get from your flight. The first recommendation is to use a zoom lens so that an airplane photographer can cover multiple focal lengths very quickly. When you're flying past your subject and the light is just right, things happen quickly.  That ability to get several different looking photos within a second, by using a zoom lens is key to maximizing the flight time. The 24-70mm is a good choice to do most of the work; that said, like an airplane photographer you must own additional lenses, it makes sense to bring a couple along for special all circumstances.  If you have a 16-35mm lens then this is great for interior images, but a fisheye lens is perfect for shooting the tube-like environment in an aircraft fuselage.
What is the best camera for Aerial Alaska Photography?
When it comes to camera choice for an airplane photographer taking aerial photos, there are two main things to consider: Resolution and High ISO performance. There isn't really a minimum number of megapixels an airplane photographer should have, but when it comes to aerial photography, I say the more the merrier. More megapixels will give the airplane photographer much more fine detail which is both great for large prints but also gives you "spare" resolution that allows to crop the image and still maintain a good final image size.
The second important consideration is the camera's high ISO performance.  In fact, this is rated as more important than the megapixel count! Light levels are going to be low if the airplane photographer is shooting at either extremity of the day. When you combine this with a necessity for decent depth of field in the landscape shot, and the requirement for faster shutter speed to prevent the plane's movement from blurring the photo, it quickly ends up pushing the camera's ISO high. When the camera's ISO levels are pushed higher and higher, the images will get softer and softer, and more noise will begin to creep into them. Full frame cameras always have less noise (i.e. better high ISO performance) than their crop sensor equivalent from a similar time period, so the airplane photographer should do well to use a full frame DLSR camera if really maximized results are wanted. A DSLR or a mirrorless camera with a sensor of at least APS-C size should be considered mandatory if the airplane photographer is really looking to get the best from the photo flight.